Cray Thornton's Chestnuts
The Chatterbox, issue 37 (1876)
Pages 295-295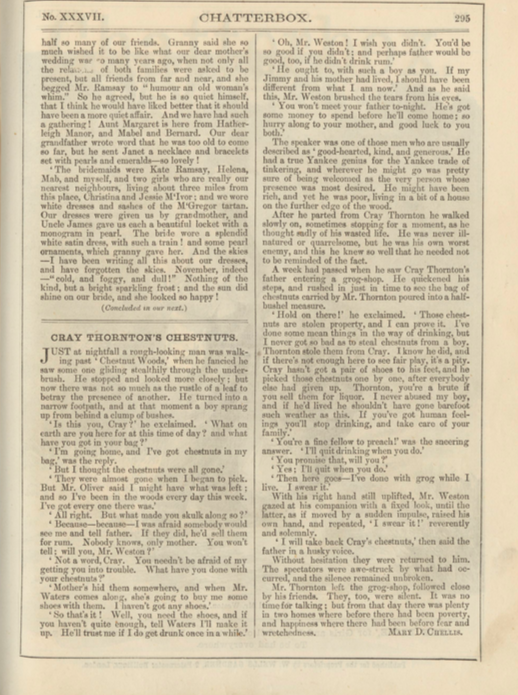 NOTE: This entry is in draft form; it is currently undergoing the VSFP editorial process.
Introductory Note: "Cray Thornton's Chestnuts" is a story for children that deals with the ill effects of alcohol on families and homes. It was written by Mary Dwinell Chellis, a temperance novelist. The temperance movement was an anti-alcohol movement that often promoted complete abstinence from alcohol. This is a prime example of the kind of didactic stories often included in the Chatterbox, as it strives to nourish the soul with a tale of courage in overcoming the evils of alcohol.
Just at nightfall a rough-looking man was walking past 'Chestnut Woods,' when he fancied he saw some one gliding stealthily through the underbrush. He stopped and looked more closely; but now there was not so much as the rustle of a leaf to betray the presence of another. He turned into a narrow footpath, and at that moment a boy sprang up from behind a clump of bushes.
'Is this you, Cray?' he exclaimed. 'What on earth are you here for at this time of day? and what have you got in your bag?'
'I'm going home, and I've got chestnuts in my bag,' was the reply.
'But I thought the chestnuts were all gone.'
'They were almost gone when I began to pick. But Mr. Oliver said I might have what was left; and so I've been in the woods every day this week. I've got every one there was.'
'All right. But what made you skulk along so?'
'Because—because—I was afraid somebody would see me and tell father. If they did, he'd sell them for rum. Nobody knows, only mother. You won't tell; will you Mr. Weston?'
'Not a word, Cray. You needn't be afraid of my getting you into trouble. What have you done with your chestnuts?'
'Mother's hid them somewhere, and when Mr. Waters comes along, she's going to buy me some shoes with them. I haven't got any shoes.'
'So that's it! Well, you need the shoes, and if you haven't quite enough, tell Waters I'll make it up. He'll trust me if I do get drunk once in a while.'
'Oh Mr. Weston! I wish you didn't. You'd be so good if you didn't; and perhaps father would be good, too, if he didn't drink rum.'
'He ought to, with such a boy as you. If my Jimmy and his mother had lived, I should have been different from what I am now.' And as he said this, Mr. Weston brushed the tears from his eyes.
'You won't meet your father to-night. He's got some money to spend before he'll come home; so hurry along to your mother, and good luck to you both.'
The speaker was one of those men who are usually described as 'good-hearted, kind, and generous.' He had a true Yankee 1Traditionally Yankee was most often used to refer to a New Englander, in which case it may suggest Puritanism and thrifty values, which were originally associated with that region genius for the Yankee trade of tinkering, and wherever he might go was pretty sure of being welcomed as the very person whose presence was most desired. He might have been rich, and yet he was poor, living in a bit of a house on the further edge of the wood.
After he parted from Cray Thornton he walked slowly on, sometimes stopping for a moment, as he thought sadly of his wasted life. He was never ill-natured or quarrelsome, but he was his own worst enemy, and this he knew so well that he needed not to be reminded of the fact.
A week had passed when he saw Cray Thornton's father entering a grog-shop. 2The term grog refers to a place to purchase liquor He quickened his steps, and rushed in just in time to see the bag of chestnuts carried by Mr. Thornton poured into a half-bushel measure.
'Hold on there!' he exclaimed. 'Those chestnuts are stolen property, and I can prove it. I've done some mean things in the way of drinking, but I never got so bad as to steal chestnuts from a boy. Thornton stole them from Cray. I know he did, and if there's not enough here to see fair play, it's a pity. Cray hasn't got a pair of shoes to his feet, and he picked those chestnuts one by one, after everybody else had given up. Thornton, you're a brute if you sell them for liquor. I never abused my boy, and if he'd lived he shouldn't have gone barefoot such weather as this. If you've got human feelings you'll stop drinking, and take care of your family.'
'You're a fine fellow to preach!' was the sneering answer. 'I'll quit drinking when you do.'
'You promise that, will you?'
'Yes; I'll quit when you do.'
'Then here goes—I've done with grog while I live. I swear it.'
With his right hand still uplifted, Mr. Weston gazed at his companion with a fixed look, until the latter, as if moved by a sudden impulse, raised his own hand, and repeated, 'I swear it!' reverently and solemnly.
'I will take back Cray's chestnuts,' then said the father in a husky voice.
Without hesitation they were returned to him. The spectators were awe-struck by what had occurred, and the silence remained unbroken.
Mr. Thornton left the grog-shop, followed close by his friends. They, too, were silent. It was no time for talking; but from that day there was plenty in two homes where before there had been poverty, and happiness where there had been before fear and wretchedness.
Original Document

Download PDF of original Text (validated PDF/A conformant)
Topics
How To Cite
An MLA-format citation will be added after this entry has completed the VSFP editorial process.
Editors
Jessica Lemon
Taylor Topham
Cosenza Hendrickson
Alexandra Malouf
Posted
10 February 2021
Last modified
5 June 2023
TEI Download
A version of this entry marked-up in TEI will be available for download after this entry has completed the VSFP editorial process.