The Hon. Percy Heron
Longman's Magazine, vol. 14, issue 79 (1889)
Pages 45-65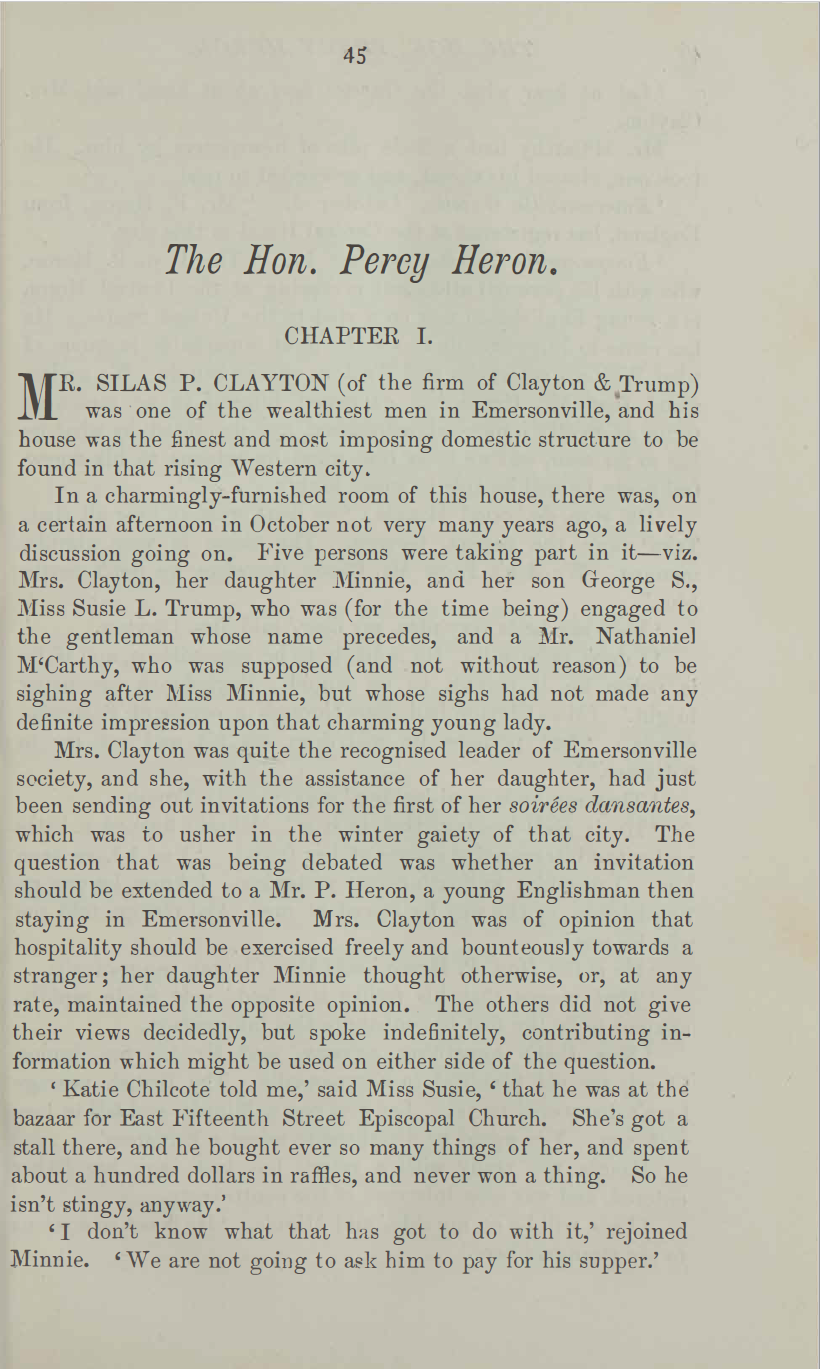 Introductory Note: The rapidly changing world of the late nineteenth century led to problems in the upper echelons of society in both the United States and England. In England, many of the aristocracy could no longer afford to maintain their lavish homes and lifestyles. In America, families that had recently made their fortunes could not gain entry to higher society because they weren't perceived as respectable enough. As a result, it became popular for American heiresses, known as, among other names, "Dollar Princesses," to marry British nobility, thus exchanging money for social standing. But this led to concern among the British that there were no eligible noblemen for upper-class British women to marry, further increasing criticism of American heiresses.
In "The Hon. Percy Heron," Robert Shindler uses the conventional marriage plot to satirize this phenomenon as the American Clayton family meet and get to know the visiting Percy Heron.
CHAPTER I.
MR. SILAS P. CLAYTON (of the firm of Clayton & Trump) was one of the wealthiest men in Emersonville, and his house was the finest and most imposing domestic structure to be found in that rising Western city.
In a charmingly-furnished room of this house, there was, on a certain afternoon in October not very many years ago, a lively discussion going on. Five persons were taking part in it—viz. Mrs. Clayton, her daughter Minnie, and her son George S., Miss Susie L. Trump, who was (for the time being) engaged to the gentleman whose name precedes, and a Mr. Nathaniel M'Carthy, who was supposed (and not without reason) to be sighing after Miss Minnie, but whose sighs had not made any definite impression upon that charming young lady.
Mrs. Clayton was quite the recognised leader of Emersonville society, and she, with the assistance of her daughter, had just been sending out invitations for the first of her soirées dansantes, which was to usher in the winter gaiety of that city.1Soirées dansantes is French for "dance parties." The question that was being debated was whether an invitation should be extended to a Mr. P. Heron, a young Englishman then staying in Emersonville. Mrs. Clayton was of opinion that hospitality should be exercised freely and bounteously litowards a stranger; her daughter Minnie thought otherwise, or, at any rate, maintained the opposite opinion. The others did not give their views decidedly, but spoke indefinitely, contributing information which might be used on either side of the question.
'Katie Chilcote told me,' said Miss Susie, 'that he was at the bazaar for East Fifteenth Street Episcopal Church. She's got a stall there, and he bought ever so many things of her, and spent about a hundred dollars in raffles, and never won a thing. So he isn't stingy, anyway.'
'I don't know what that has got to do with it,' rejoined Minnie. 'We are not going to ask him to pay for his supper.'
'Let us hear what the Gazette says about him,' said Mrs. Clayton.
Mr. M'Carthy had a little pile of newspapers by him. He took one, cleared his throat, and proceeded to read.
'Emersonville Gazette, October 5. "Mr. P. Heron from England, has registered at the Central Hotel in this city."'
'Emersonville Gazette, October 10. "The Hon. P. Heron, who with his personal attendant is staying at the Central Hotel, is a young Englishman now on a visit to the United States. He has come to Emersonvile to see the most remarkable instance of what Western enterprise and Western energy can do. We understand that Mr. Heron has expressed himself in no measured terms as greatly impressed, astonished, and delighted by what he has so far seen, and we hope that when he returns to his ancestral home he will be able to speak highly…."'
'Oh stop, do,' cried Minnie; 'we don't want to hear all that. Take away the papers, George. The thing is very simple, mamma. We don't know Mr. Heron, therefore we don't invite him.'
'They say he is very nice, my dear,' said Mrs. Clayton.
'I don't believe it. He is likely to be supercilious, and if he is polite he is certain to be stupid. Englishmen are never bright.' (Miss Clayton had gone through a course of Bostonian novels.) 'And perhaps he will drop his h's and ask me to "dawnce."'
'They say he is good-looking,' said Susie L. Trump.
'He is good-looking, that is true.' Minnie flushed a little under the interrogative glance of her friend. 'Yes, I have seen him. I met him in South Street yesterday. I knew he was an Englishman by the way he stared at me. And George told me who he was.'
'He is the Hon. P. Heron,' said Mrs. Clayton suggestively.
'That means that his father is a lord,' said Susie rapidly, anxious to be the first to contribute this information.
'Now, that's something, anyway,' said Mr. Clayton, junior. 'Lords are not plentiful in Emersonville. The British peerage hasn't discovered us yet. Let him come, Minnie, and fall in love with you. You would be delighted to reject a Britisher.'
 Minnie was ready with a retort, but just then her father entered, and was soon informed of the controversy.
'Papa will be on my side,' said Minnie. 'He is not so anxious to see strangers here.'
'Well, I dunno,' said Mr. Clayton. 'As a general rule, no. But there are exceptions. Fact is I've taken rather a liking to this young man.'
'Why, what has he done—how did you meet him?' There was a chorus of voices.
Mr. Clayton waved his hand deprecatingly.
'Well,' he said, 'I don't know that he's done much at present. If he has, I haven't seen it—may be, because I wasn't there. But he was going over Franklin Street crossing just now, and I reckon his foot slipped or his ankle twisted or something, for he got down on his back mighty sudden right between the rails. There was a freight-train pretty handy, and coming along quite quick enough to be awkward. Well, as I happened to be in the immediate vicinity, I just helped him out of the way. Perhaps if I had thought he was a Britisher, I might have left him there to please Minnie, but there wasn't time to do much thinking.'
'What did he say?' said Minnie eagerly. 'He ought to be very grateful to you.'
'Well, he said he was. He was very muddy, anyway. You can see some of the mud on my top coat in the hall, and I suppose you'll see some of the gratitude here in this parlour, for I have asked him round and he's coming this very night.'
'Oh, how nice!' said Susie; 'he'll make a little speech and say that he owes his life to you, and that he will never forget it, and so on. I should so like to hear it all.'
'You may come, young lady,' said Mr. Clayton. 'George shall call round in case you mightn't find your own way.'
'It won't be interesting at all,' said Minnie. 'He's an Englishman. If he were a German or an Italian, or even a Frenchman, now, it would be worth seeing; he would rush up to father and call him his deliverer and so on, and kiss him on both cheeks and perhaps shed tears.'
'Minnie is thinking of Herr Rosenbaum,' said her brother, 'when you lent him four thousand dollars to open a store with. He wanted to kiss us all round—particularly Minnie.'
'For shame, George S. Clayton!' said his mother.
'But an Englishman won't do like that,' Minnie resumed. 'He would be ashamed to show so much feeling. He'll say, "Awfully good of you to pick me up—I might have joined the majority, don't you know? Hope you'll look me up if you come to England. Might offer you some shooting, don't you know?"'
All laughed at Minnie's imitation of the English accent, and then Miss Susie said she positively must go, but that she would be sure to come in again that evening to witness Mr. Heron's display of gratitude. Meantime Minnie, having briefly dismissed Mr. Nathaniel M'Carthy, had gone to her room, where there was a piano and plenty of music. After a little deliberation she selected a sonata of Dussek's and practised it over three or four times.2Jan Ladislav Dussek was a Czech composer and pianist associated with the Romantic movement. Then she sang an Italian song, and then one of Sullivan's ballads; and it should be stated that she sang and played very much better than most young ladies do.3Arthur Sullivan was part the duo Gilbert and Sullivan, famous for their comic operas such as "The Pirates of Penzance" and "H.M.S. Pinafore." When she had finished playing and singing she sat still for a long time thinking. And her thoughts ended with the reflection that it was very strange of her father to bring round to the house a man whom he didn't know and whom he had literally picked up in the street. It was very absurd of him (dear old dada!) and very remarkable too—quite an event, indeed.
CHAPTER II.
MR. HERON called on Mr. Clayton that evening and was presented to his family. As he shook hands with Mrs. Clayton he said:
'I believe I owe my life to your husband's presence of mind and quickness. As long as I live I shall be indebted to him. I don't know that the life he saved is very valuable to humanity, but I at least may be permitted to feel some gratitude. At any rate, I do feel it, and you must let me say so.'
He spoke warmly, and Mrs. Clayton was a little moved.
'Well now,' said her husband, 'I don't know about what you have been saying. The cow-catcher mightn't have hurt you much.4The cow-catcher is the blunt wedge-shaped device mounted to the front of a train to deflect obstacles from the track. But I guess it's as well as 'tis.'
Mrs. Clayton inquired if he had been much hurt by the fall.
'Very little indeed, Mrs. Clayton,' he replied. 'And a little arnica and the few bandages I have got on will soon put everything straight. Nothing will remain of the accident except the memory and the obligation.'
Soon the conversation became general. Mr. Heron spoke of his visit to America. He had come over to see the country, and he meant to diverge from the beaten track. Every Englishman looked at Niagara, and saw how pigs were massacred at Chicago; he wanted, if possible, to see something that was not down in tourists' handbooks. That was why he had come to Emersonville, as he was told it was one of the most characteristic of Western cities. He thought so too. He felt that he had got to understand a good deal about America during the few days he had been there.
Mrs. Clayton inquired if he was fond of dancing.
'Ah,' he said, 'that depends. It is only the ladies that really love dancing for its own sake. The ladies, in fact, are so fond of dancing that they endure their partners; with men the case is reversed.'
'Ah,' said Mrs. Clayton, 'now if you refuse to dance while you are here, we shall know the reason.'
When Mr. Heron had taken his leave—and he avoided the common error of staying too long—Mrs. Clayton turned to her daughter with a small air of triumph.
'Well, Minnie?'
'Oh, mamma, invite him if you like. I am sure I don't mind. I don't see anything particularly objectionable in him.'
Miss Susie Trump was much more enthusiastic. Mr. Heron had such nice manners, was so very well dressed, in such good taste; it was easy to see he was well connected, and all that. There was no longer any hesitation about sending the invitation; the question now was whether Mr. Heron would come.
Mr. Heron did come to the ball. He had been intending to leave Emersonville, but postponed his intention. He explained this to Mrs. Clayton.
'Even if I had left,' he said, 'I would have come back.'
Mr. Heron made a very good impression on Emersonville society on that evening. He was undeniably good-looking, and everybody agreed that he danced beautifully. And he on his side was quite enthusiastic about the ball. Never had he seen so much beauty and grace, so much vivacity and sprightliness; never had he enjoyed himself so much.
'Why, I would come over from England,' he said to Mrs. Clayton, 'for just another evening like that.'
'Better stop here for a little while,' was the reply; 'perhaps we will ask you again.'
This was already nearly a week after the soirée dansante, and Mr. Heron had not fixed the date of his departure. Soon he ceased to talk of going at all. He was travelling only for pleasure, he said, and he was best off where he was. It would be foolish to leave a place where he was so well treated, and was having such a good time.
Mrs. Clayton's house was not the only one where Mr. Heron was welcome. All Emersonville threw open its door to him, and he went everywhere. And the city had never been so gay as it was that winter. The presence of a distinguished foreigner seemed to mark an epoch in the history of the town. Emersonville had left the provincial stage and taken a cosmopolitan position. Mr. Heron, with his many stories of the great world, represented London and Paris, Rotten Row and the Champs Elysées. Then personally he was extremely popular. He did his best to please, and he succeeded. The men were delighted with the free and easy way in which he spoke of Personages and Institutions. He was not a narrow-minded Englishman, insular and prejudiced; he delighted to ridicule the anomalies of English society, and had but scant respect for that monument of wisdom, the British Constitution. And he reviled the English climate, the London fogs, the grey skies, the sunless summer, the constant fear of rain. And he admired America, its customs, and its manners, not indiscriminately, but with certain sarcastic reservations, just sufficient to give a zest to his general tone of contentment. Mr. Clayton, for example, was never so pleased as when he declaimed against the locomotives 'which you let run loose in your streets.' And his comment on the sweetness of the champagne they drank as an almost touching instance of chivalrous devotion to the fair sex was felt not to exceed the limits of kindly criticism.
With the ladies he was a very great favourite, though they didn't care so much about his Republican sentiments, which seemed out of place in an Englishman. Miss Susie, for instance, was sorely puzzled to know why he had not the prefix 'the Hon.' printed on his visiting card.5"The Hon." or "The Honourable" is an honorific title designating someone the son of a viscount, baron, or earl. At last she found courage to ask him, and he seemed to think the question an odd one. But he said that he thought titles were ridiculous altogether, unless it was such a prefix as Colonel or General which one had gained for oneself. Miss Trump didn't agree with him, and she said so. And so she forgot her intention on inquiring further why he called himself simply P. Heron and not Percy George Hubert Heron. For the young lady had been making researches into the family history of the interesting stranger. She had procured a 'Debrett'—the first 'Debrett' that had ever entered Emersonville—and there she had found that Heron was the family name of the Earls of Eaglescliffe, and that their family seat was Hernshaw Castle in the north of Lancashire; that the eldest son was still unmarried, and that Percy was the second; that he had five sisters—Gwendoline, Maud, Alice, Edith, and Clara.6Debrett's Peerage and Baronetage was a book, published roughly every five years, that provided readers with information on the titled members of British society. Miss Trump's inquiries may appear to show that she was taking a special interest in Mr. Heron. And in confirmation of this view it may be stated that she twice expressed the dislike and contempt she felt for her name of Susan, and on being asked what name she would prefer she replied on the first occasion Gwendoline and the second Maud. And she danced with him a good deal. Everybody noticed that—Mr. Clayton, junior, most of all. But none of the young ladies had any scruple about stating their liking for Mr. Heron. Everybody agreed that he was handsome, that he had the nicest possible manners, and that he was 'very, very bright.' One could not help admiring the skill with which he parried the question whether English girls were prettier than American. The inquiry was put to him a hundred times, and no one could say what his opinions were. But the ladies were delighted with one concession: he admitted that the American girls were better dressed. English girls were apt to be dowdy, their dresses often didn't fit or had no style. American ladies were just perfect in these respects. Yet though Mr. Heron was so very popular from the outset, an event occurred after he had been in the city about two months which raised the tide of admiration still higher, and at the same time showed how thoroughly English he really was. It was at Mrs. Clayton's that he visited most often. Her soirées musicales were the boast of the city.7A soirée musicale was a party for listening to musical performances. It is a French term that, translated literally, means "musical parties." Even the altogether unmusical appreciated the air of refinement which hung round the names of Chopin, Schubert, and Rubinstein.8The three men referred to here are, respectively, Frédéric Chopin, Franz Schubert, and Anton or Nikolai Rubinstein. All were prominent composers throughout the nineteenth century. Mr. Heron attended these gatherings, and was as delighted with them as he was with everything else. And on one occasion after Minnie had been playing and he was applauding, she said:
'What a pity it is, Mr. Heron, that you do not play or sing. It is such an accomplishment for a young man.'
Mr. Heron smiled, but said nothing.
Suddenly his skill and correctness in turning over the leaves of her music occurred to Minnie—flashed across her mind as she said afterwards.
'Mamma,' she said, 'I believe Mr. Heron does play and understands all about music, though he hasn't said so.'
Mrs. Clayton gazed at him; his smile grew more self-conscious and there were traces of a blush upon his cheek.
'Sit down at that piano right away,' cried she, 'and play for the rest of the evening, or we will never speak to you again.' Mr. Heron made a comic gesture of deprecation and took his seat. He played a short piece of Heller's, and when he had finished Minnie sighed.9Stephen Heller was a Hungarian pianist and composer associated with the Romantic movement.
'I have never heard such playing; we must all feel very small just now.'
'Oh, you bad man,' cried Mrs. Clayton, 'bad, bold deceiver!' she shook her finger at him menacingly; 'we shall devise some punishment for you. And to begin with you shall play before Herr Neumeister, and he will criticise you terribly.'
Herr Neumeister was the moving spirit of Emersonville in things musical. He had been Miss Clayton's teacher, and still presided over her musical work. The city was proud of Herr Neumeister; it was something to have a man who had known Liszt and Wagner.10Franz Liszt and Richard Wagner were both enormously popular composers. He came just then into the drawing-room with Mr. Clayton, and was told of what had taken place. His face put on an expression compounded of keen interest and judicial gravity.
'Play something at once, my friend; I will hear you.' Every one looked on with some degree of excitement. Miss Susie was visibly agitated and nervous. Minnie succeeded in concealing what she felt, whatever it was.
Mr. Heron struck a thunderous chord and began. It was a piece of light rippling music, sounding like happy laughter, now sinking into tenderness, now rising almost to passion, but underlying all there was a constant note of happiness and unconquerable joy.
'You play well, young man, very well indeed. You are almost a genius,' said Herr Neumeister gravely. 'And your morceau is very beautiful. But I do not know it.'11A French word referring to a short musical piece.
'It is a little thing of my own,' said the other, half laughing. 'It occurred to me recently. I hope I may dedicate it to Miss Clayton. I would like,' he went on, almost shyly, 'to call it "Minnie." I have tried to translate Miss Clayton into music.'
'Young man,' said Herr Neumeister, 'I was mistaken in calling you almost a genius; Lieber Himmel, you are a genius! I tell you it—I, who have known Liszt and Wagner.12Lieber Himmel is a German exclamation that translates roughly to "Dear Heavens!" That composition ought to make you famous.
The circle of listeners were enthusiastic, Mr. Clayton most of all.
'I do not say,' Herr Neumeister went on, 'that your piece is faultless. But it is a work of genius. And from an Englishman too! In England when I was there they really liked nothing but "Home Sweet Home" with variations. Ach, it is wonderful!'
Mr. Heron was pressed to play again, and with a comic look at Herr Neumeister he struck into that piece of Thalberg's which had been mentioned by the laudatory German.13Sigismond Thalberg wrote a famous composition of variations on "Home Sweet Home." He snorted disapprobation, but the others were really better pleased than they had been before. The conclusion was greeted with loud plaudits, and almost every one present felt it incumbent to compliment Mr. Heron personally.
'So you've been keeping the right bower up your sleeve all along,' said Mr. Clayton, junior. 'I don't know when the other piano-slammers will forgive you. They all feel mighty cheap, you bet.'
'Well, young man,' said the father, beaming all over, 'I guess we don't exactly know who we've got here. But the way you've played it off on us is rather mean.'
The object of all these compliments appeared not a little embarrassed. In tragic terms he implored Mrs. Clayton to save him from his friends. That lady put on an air of sternness:
'I shan't forgive you for a long time,' she said. 'You'll have to give a concert for our new church any way.'
'Oh!' exclaimed he, and was gone.
And then the chorus of admiration broke out again, and Herr Neumeister spoke many an oracular sentence of deep approbation. And the wonder was not only at his talent, but at the way he had hidden it. To be able to play like that and then to be content to listen—it showed how much depends on national characteristics. Mr. Heron was a thorough Englishman after all. No one could imagine a Frenchman or a German or even an American acting like that.
Miss Susie Trump regretted immensely that she had once told Mr. Heron that she didn't care at all for music except dance music. She remembered too how, when she was a little girl, her mother had told her that she would be sorry if she neglected her practice. She felt that that time had come. She was not going to break her heart for Mr. Heron (or for anybody), but she couldn't help seeing how different he was from any of the young men of Emersonville. And among them her depreciatory glance included Mr. George S. Clayton, whose attentions were now growing a little wearisome. She was afraid she had offended Mr. Heron. His manner had changed towards her slightly, she thought. The change was very, very slight, imperceptible to any one but herself, but she dated it from a certain afternoon when she had had a long talk with him alone. She had asked him to describe Hernshaw Castle. He had done so, very briefly.
And then she had extended her curiosity to his family. What were his sisters like? Did they write frequently? Was he very fond of them? To this he had made only evasive replies, and had hastened to change the subject. Looking back on that afternoon, she felt sure that her inquisitiveness had displeased him. She herself was ready to admit that it was in bad taste, if not actually vulgar.
Meantime Minnie was walking about her room at home with flushed cheeks. She had a habit of walking about when she was at all uneasy, and now she was quite excited. She remembered with painful vividness that she had been not a little proud of her musical ability, and pleased to display it to Mr. Heron. A red spot seemed to burn in each cheek as she thought how she had once or twice tried to instruct him how to admire correctly, how she had interpreted music to him and told him a lot of things, which he had listened to with the greatest attention. And perhaps he was laughing at her all the time. But was he? She thought over many different things he had said, and decided that if his admiration was not sincere it was a superb piece of acting. But she felt that that evening made a difference in their relations. They must now either be less friendly or—Minnie did not state the alternative to herself very distinctly, but she ceased to pace about the room. She untwisted the coils of her hair and let its soft brown masses come rippling about her shoulders, and then for a long time she sat gazing intently at the points of her diminutive satin slippers.
CHAPTER III.
CHRISTMAS had passed, the new year had come, and the month of January was more than half-way through its course, and Mr. Heron was still at Emersonville. He was by this time quite one of the accepted institutions of the place. He had given a concert, assisted by Minnie and the choir, in aid of the new Presbyterian Church; he had entertained his entertainers by a ball, in arranging which the Central Hotel was thought to have distinguished itself. And he had learned to like sleighing and had bought a sleigh of his own, the most 'elegant' in the city.
And in this sleigh he was riding with Minnie one fine afternoon, while her father and mother sat in the little parlour and talked of them.
'Well,' said Mr. Clayton, 'I guess that young man hasn't stopped over here so long for nothing.'
'Silas P. Clayton,' said his wife, 'this is your doing. You brought him here first.'
'Is it all fixed up between them, do you suppose?'
'There's no doubt about what he thinks. I've seen it in him ever so long. And I guess Minnie has pretty well made up her mind now.'
After a pause Mrs. Clayton added:
'I suppose they will have to live over there?'
Mr. Clayton's face lost its radiance.
'I suppose they will,' he answered slowly; 'somehow that idea didn't seem to come to me before. I suppose I must have thought of it, but it didn't catch right hold of me.'
'Perhaps,' he went on after a little, 'perhaps we are all wrong, and Minnie would laugh at us for a couple of old fools. There's young M'Carthy now.'
Mrs. Clayton shook her head.
When Minnie returned from the sleigh ride her face was radiant, her eyes beamed. Her father was watching for her in the window, and she waved him a kiss, but ran up to her own room without speaking to anybody. Then she threw off her heavy furs, dropped into a rocking-chair, and began to sway herself to and fro gently. She was thinking, dreaming, musing, reflecting, remembering, conjuring up the dimly outlined future. She recalled the day when she first met Percy—she had for some time thought of him as Percy—and how he had stared and she had been a little angry. And she remembered, too, how she had disliked him, or had thought she had. She understood that feeling now. And so her thoughts drifted on till she came to the sleigh ride of that afternoon, and her mouth wreathed itself in frequent smiles as she thought of what had been said and done in that brief hour. His declaration—nearly shipwrecked by a passing complication of the reins, she laughed as she thought of it—and her responsive avowal, and the moment when, his hands still on the reins, their lips had touched and quickly parted again. And then she thought of him—so handsome, so graceful, so refined, admired by everybody. But all that was nothing; he was a genius. She was sure of his greatness. Her eye ranged round the room, and fell on the portraits of great musicians which hung on the walls—Beethoven, Schubert were there, Chopin and Liszt. And she felt that he might by and by rank with these great names, and her bosom heaved with the pride of love worshipping genius. At last she sat down at the piano and began to sing. Mr. Heron had given her recently the 'Spanischer Cyclus' of Schumann, and she fell on the last song. Her voice rose and sank again in silvery waves of happiness.
Der mich liebt, den lieb' ich wieder,
Und ich Weiss, ich bin geliebt.14Lines from Robert Schumann's song "Ich bin geliebt" from "Spanishces Liederspiel" (Op. 74). The lines translate to "Whoever loves me I love back, / And I know that I am loved."
Her mother came to the door, and stopped listening awhile to the music. The song went on, and after a minute she turned away and left the young girl to her solitary happiness. Mrs. Clayton knew how to practise self-denial.
That evening Mr. Heron received a visit from Mr. Clayton, junior.
'I've come to bid you good-bye,' he said, 'good-bye for a time at least. We may meet on the other side, you know. Unless you stop here for good.'
'You are going to Europe?' cried Mr. Heron astonished.
'Exactly. It is like this. Susie and I have quarrelled, and she has thrown me over altogether. We broke off before, and made it up afterwards, maybe we'll do so again. But it doesn't look like it just now. Anyway, I think I had better clear out for a bit. See what absence will do. So I am going to see Europe, beginning with the Britishers, and I thought I would ask you to give me letters of introduction to one or two people—just one or two, so that I may not be a complete stranger over there.'
Mr. Heron looked at him with an oddly curious look.
'When do you go?'
'To-night. Everything is arranged. I don't take much baggage. Better buy it over there.'
'And you want letters of introduction—of course—letters to people—letters—'
He trailed off into silence.
The other looked a little surprised.
'Of course if you don't care about giving them—if you don't wish me to know your friends—say so straight out.'
'My dear fellow,' said the other quickly, 'pray don't talk like that. I shall be pleased to make you known to all my friends; but who are they, now?'
'There's your father, the Earl of Eaglescliffe. Susie seems to think so much of earls I want to see what one is like.'
'The Earl of Eaglescliffe—yes, there is the Earl certainly, and—'
He paced about the room, the other watching him with surprise and curiosity. Then he said:
'Give me your address in London or—or New York. I will write to you there, and you may rely that I will do everything for you I can.'
When his friend was gone, Mr. Heron sat for some time thinking, brooding, meditating. The ladies of Emersonville would have been surprised if they had seen him there. He looked careworn, almost haggard. At last he rang the bell and summoned his valet.
'Smith,' he said, 'to-day is Tuesday, isn't it?'
"Yes, sir.'
'I am going to leave this place on Friday; you will stop a day longer and square up everything, and then come on with the luggage. Mind you are not to mention this to anybody.'
Mr. Smith was very much surprised, but being a well-trained servant, he didn't let his surprise appear. He asked where they were going.
'To Chicago first of all, then to New York, and then back to England probably.'
On the Friday afternoon mentioned Mr. Heron was starting to pay a visit to the Claytons. A letter was brought him, which he opened and read rapidly. It was from Mr. George Clayton, and to the effect that he had altered his plans and was not going to England. He intended to pass the rest of the winter in Cuba, and then to visit some of the South American countries. Hence the letters of introduction were unnecessary. Mr. Heron drew a deep breath of relief as he laid down the letter.
'This is a respite,' he cried, 'and yet—'
He started out to walk, and almost automatically took the street that led to Mr. Clayton's house.
He found Minnie alone.
'Mamma is paying visits, and Papa is still at the office,' she said, 'so you will have to be content with my society.  Can you endure a tête-à-tête, do you think?'15A French term that literally translates to "head to head." It is used in English to mean a private conversation, especially face to face.
She smiled half lovingly, half mischievously, at him, and held out her hand.
He raised it to his lips. For a moment he bent over her as she reclined in her low rocking-chair.
'Percy,' she said, 'sit on that ottoman. I like to see you at my feet, you know, now and then at least, and talk. I am just dying to hear what you have to say. And then I've something to tell you.'
He took not the ottoman, but a chair, and sat silent for some time.
'Why, Percy,' exclaimed Minnie, 'you don't look very cheerful. I shan't feel flattered if you continue to look so doleful. Why, what is the matter?'
For his effort after a smile was a dismal failure.
'Minnie—Miss Clayton,' at last he said, speaking very slowly, 'I have a confession to make. What I have to say will make you hate me, or rather despise me altogether.'
He hesitated, and Minnie was about to speak.
'Let me get it all out at once,' he said. 'Let me tell you first of all that I am an imposter, that I have been living here all this time on false pretences, that I am a low, common adventurer—a swindler—a—'
'Mr. Heron,' said Minnie, 'before you call yourself any more names, will you have the goodness to explain what you mean?'
'This—that I have pretended to be rich when I am almost a beggar—that I have let you suppose I was well connected when—'
He hesitated for a moment, and then went on with a rush, as it were.
'My father, Miss Clayton, kept a barber's shop in the Euston Road—a second-rate thoroughfare in London.'
Minnie's head seemed to become a chaos, a confused whirl. She remembered vaguely to have read of a Frenchman who (at Chicago, she thought) had given himself out for a count, had been received everywhere, and had only been discovered to be a swindler when he had escaped with much plunder from confiding jewelers. Then on the other hand, there was the liking every one had for Mr. Heron; he seemed so amiable, so intelligent, such a perfect gentleman too. Then her own feelings and the sleigh ride of a few days before—a burning sense of shame was the first distinct feeling to struggle out of the tumult in her mind.
'Miss Clayton,' he went on, 'I have come to tell you my whole story, and I hope you will let me go through with it. In an hour or two I am leaving this town, and you will never see me again. But I must speak first, and when you have heard all, if you can find some little shadow of excuse for me, if you can believe that I am not utterly base and villainous—I hope you will.
'When I was about sixteen it was discovered that I had a talent for music. But my father couldn't pay for my education. I had to go to business of some kind or other and earn my living. I pass over some years of hopeless drudgery, dull, pack-horse work. At last my father died, and I was alone in the world, or nearly so. My mother had been dead for some years. I sold my father's business, furniture, everything. He had left some small savings, and I got all together and devoted myself to the study of music. My teacher was kind and encouraging, and prophesied brilliant success for me. But before my training was properly complete, he died, and I was left almost friendless; for I had counted on him to set me going in my profession. My money was almost gone. I hadn't been as careful as I ought—I had always a taste for luxury, and I was obliged to look for pupils. I had a difficulty in finding any, but after a while I had a few. I taught the five-finger exercises to reluctant little boys and girls. I hated the work and I was wretchedly paid. I struggled on and I worked hard. The jingling old piano I possessed used to resound for six hours a day. I hoped that I might one day be famous—by and by attain some recognition. At last I got so far that I was asked to perform at an important concert where only musicians appear. The occasion was very unfortunate. The attendance was meagre and not responsive. I was nervous, and I—failed. I had missed my chance. But I took to writing music. I composed songs, sonatinas, and "rhapsodies," went through the whole cycle of musical composition, but to no purpose. I could never find a publisher or a conductor to give my works a hearing. I was disheartened and disgusted altogether with my wretched penurious life. One day, I remember it well, I came back to my lodgings and found two postal packets waiting for me. I knew what they were only too well—MSS. Returned from music publishers—and the sight of them almost enraged me. After a while I opened the packets and found a great surprise. One was a returned score, the other was a letter from a lawyer informing me that an aunt, whom I hardly knew at all, had died leaving me all her property. She had kept a public-house. The only time I saw her was behind her own bar, fat and florid, overdressed and vulgar—like all my connections. She was good-natured, and she had, though I didn't know it, been present at the concert where I broke down, and out of pity for me she left me all she had. It amounted, with the goodwill of the business and so on, to over 2,000l.162,000 pounds. My first feeling of elation soon gave way to the thought that this did not do much for me after all. The interest of that money wouldn't carry me very far, and if I spent the principal I should soon be as badly off as ever. I despaired of my career, and soon formed a resolution. At all events I would be free for a time, and escape the dog's life I was leading. Then the idea occurred to me to pass myself off for a man in good position, and try to make a rich marriage. A mean and miserable idea, but it didn't seem so then. I was sick of the scanty bread and water of honesty, and ready to see if quackery and imposition wouldn't succeed better. And a rich marriage seemed the most practicable thing. That idea brought me across the Atlantic, chance brought me here. You know the rest.'
Minnie had listened to this long speech attentively, but like one in a dream. His voice seemed faint and far away. Now she nerved herself to speak.
'You have pleaded your cause with great ability, Mr. Heron'—she hesitated before this word—'but that doesn't alter the fact that you are an adventurer and what you called yourself just now. We certainly took you for a gentleman. We are not very skilled in reading character in this city, it seems. We are too hospitable to anonymous strangers.'
'I have a right, Miss Clayton, to the name you know me by. I never claimed the prefix. I know I acquiesced in the mistake. I never contradicted it, and I allowed every one to believe it.'
'Mr. Heron,' said Minnie coldly, 'it is quite unnecessary to say anything to settle the exact amount of fraud you have been guilty of. I would recommend you to go away before your story is known. Our people are impulsive and not accustomed to draw fine distinctions. If you stopped here you might meet with some unpleasantness.'
'I leave this very day in an hour,' was the reply. 'But there is one thing I must say first. It is just this. I never intended to entrap any confiding girls into marriage. If I found any woman who could really care for me I meant to tell her exactly how things stood. I am sure I meant this. But when I saw you my scheme seemed all of a sudden base and vile. I knew I ought to get away from here, but I couldn't. I loved you, Minnie, from the very first wholly and entirely. And I shall always love you, sincerely, passionately, hopelessly. And perhaps you will remember that I have told you all this of my own free will. Here is the photograph you gave me yesterday. You don't know how I would like to keep it, but I have no right. And I hope, though you will always think badly of me, that some day you will think as little badly of me as you can. You will say "He was an adventurer, an impostor, but he really loved me." As for me, I know I have been horribly wrong all through, but my punishment is heavy enough, the punishment of never being able to forget you, never being able to help loving you.'
Minnie did not speak nor look at him, and he moved slowly away.
In the porch he met Miss Susie, on a visit to her friend.
'Why, Mr. Heron, we haven't seen you for an age. You won't forget our dance to-morrow?'
'Miss Trump,' he replied, 'I am going away to-night and shall not be able to be present.'
Susie looked very disappointed.
'Then you must come round and wish Mamma good-bye, Mr. Heron. But we shall miss you dreadfully; at least I shall.'
'I must say good-bye to you now, Miss Trump. And you must convey my adieux to your mother and my gratitude to everybody.'
A tear stole down Susie's cheek.
'Mr. Heron,' she said slowly, 'I don't want you to go.'
'Think kindly of me when I am gone,' he replied sadly, and hurried away.
'Poor fellow!' sighed Susie. 'Minnie has refused him after all.'
And she sighed again.
Meantime, Minnie had taken refuge in her own room. With burning cheeks and blazing eyes she paced about restlessly. She felt deeply humiliated. She had become the victim of a vulgar adventurer. She had been entrapped into a confession of love. The memory of that sleigh ride overwhelmed her with burning shame. He had kissed her. The thought outraged her self-shame. He had kissed her. The thought outraged her self-respect. She felt insulted, disgraced. And she could not get free from the idea; it seemed to cling to her, to twine about her like a serpent, to sting, to bite. On the piano was the piece of music he had given her. The words seemed to mock her now:
Der mich liebt, den lieb' ich wieder,
Und ich Weiss, ich bin geliebt.
She tore the poor sheet into shreds, and then—then she threw herself on the couch, buried her face on the cushions, and burst into a tempest of tears. That was how she was found by her friend Susie, who came in full of curiosity and of pity for 'poor Mr. Heron.'
Epilogue.
Three years after. Heron had returned ashamed of himself and humbly ready for any work. And he had patiently gone back to the little boys and girls and First Instruction Book and the Five-finger exercises, and 'Lilla's a Lady.' And he had worked in writing, not symphonies, but modest little rondos and cavatinas, which publishers had begun not to be afraid of. And he had gone over his old compositions carefully, excising, rewriting, and altering. And he had thumped away at a piano no less rickety than the one he had left—thumped away patiently, industriously, for whether he would attain success as an executant or a composer was still uncertain. Indeed, it was uncertain for a long time whether he would attain success at all, but he labored for it with tremendous energy. And in all and through all and beneath all there was the underlying hope that he might be able by and by to show certain people across the Atlantic that he was something better than a vulgar adventurer after all. Minnie perhaps in years to come might play his music to her husband and tell him his story not quite unkindly. And he found himself capable of patience. 'He that will have a cake out of the wheat must needs tarry the grinding.' He could wait; he waited, and at last he had achieved a great success. He had got the opportunity of playing one of his compositions to an audience accustomed to Beethoven and Schubert. And this time he had not failed. The musical critics had praised his performance highly, and still more highly his composition; one had even echoed Herr Neumeister's praises, and had hailed the rising of a new star, the discovery of a new genius who might hereafter reflect glory on his country, not yet the native land of great musicians. The audience had been very kind, and when for an encore he by a sudden inspiration had played his 'Minnie' impromptu, they had been enthusiastic, enraptured. He had left the hall feeling that at any rate he had taken a great step; the Instruction Book and its 'easily fingered' melodies need trouble him no more. This was quite clear after a visit to a certain firm of music publishers. He had called there by appointment, and came away thinking them the most considerate and courteous of men. He walked slowly down Bond Street, wondering if he was really going to be famous after all. At the corner of Burlington Gardens, he was stopped by an exclamation—
'Why, if that isn't Mr. Heron now!'
'Miss Trump!' he cried out in some astonishment.
'Mrs. George S. Clayton,' corrected the gentleman of that name. 'We've been married a good deal more than a year. This is February, and we were married a year ago last December. "Ah! distinctly I remember it was in the bleak December."17A quote from Edgar Allan Poe's "The Raven." But what are you doing, any way? Are you still as fond of music as ever?'
'You haven't changed the least little bit,' said the wife.
'By the bye,' said Mr. Clayton, 'when we were at Monte Carlo last winter we met another Mr. P. Heron. There was a lot of other initials, but I didn't keep count of them. Seems there are two of you. But the other one isn't as good-looking as you. Red hair and freckles; not at all bright either. I was going to tell him about you, but Susie said I'd best not.'
Mr. Heron couldn't help seeing that the lady gave a nudge to her husband, who chattered away on other topics—the bad weather, the theatres, and so on.
By and by he managed to ask after the Claytons; he dared not allude to Minnie singly.
'Why, they're'—the young man began, but another warning nudge induced him to substitute 'quite well and hearty' for whatever he would have said. 'Minnie'—but this time a glance from his wife silenced him altogether.
'Is now Mrs. M'Carthy, I suppose?' Mr. Heron continued.
'Don't you believe it,' was the response. 'Nathaniel certainly did fool round for some time after you left, but at last he concluded to try change of air. He's been married now nigh upon a year to a girl in Cincinnati.'
They had been standing at the door of the Bristol Hotel.
'Won't you come in,' said Mr. Clayton, 'and have lunch?'
But Mrs. Clayton did not second the invitation, and he declined.
'Give George your address; we shall want to see you again,' she said.
And as he took her hand at parting, her eyes met his and seemed to be asking questions.
The interview had been very unpleasant for him. He felt sunk, hopelessly lowered in his own estimation; his mind reverted to his last day in Emersonville, and the disgrace seemed too deep to be effaced. Whatever he might become, he had been a shameless adventurer. There would be always one place in the world where people had the right to think meanly of him.
Two days after he received a telegram. 'Meet me 2.30 American Bar, Criterion.—Clayton.'
He went, and was surprised to find not the son but the father.
'Guess you expected to see George,' said Mr. Clayton; 'but he and Susie went on to Paris this morning. Sit down and have something.'
He made the usual inquiries about health.
'Quite well,' said Mr. Clayton. 'The fogs seem to suit us. We have been here some time. We are stopping in a hotel on Jermyn Street, just in the next block.'
There was an awkward pause, and the arrival of the drinks that had been ordered was a relief. Mr. Heron bent over his glass and trifled with his straw. Mr. Clayton watched him with a sort of half smile.
'This is a mighty fine city,' he said at last. 'There are no locomotives running round the streets here.'
'Ah,' said the young man, 'I owe you my life and—'
'Ah,' said Mr. Clayton, 'don't say anything more about that.' After a moment he continued: 'It was only yesterday that Minnie told me why you cleared out so mighty sudden. Seems your father wasn't an earl after all. You didn't act quite square by us about it, did you now? No doubt you've been sorry for it since. That was three years ago, and we don't run much to earls any way. Don't suppose there are many earls could beat you on the piano. You could give most of them a few points, I reckon. So come round to our hotel for an hour, Minnie will be glad to see you.'
On their way Mr. Clayton told him that they had witnessed his triumph at the concert.
'When you played that encore piece, I felt kind of touched. I believe Minnie did too. And the other day Susie told her she had met you and they had a long talk together—about the spring fashions I suppose.'
They entered the hotel, and Mr. Heron was almost agitated as he saw Minnie's glove lying on the table of the sitting room.
'Guess I'll leave you here, young man,' said Mr. Clayton. 'Minnie will be down directly, I expect. I've got to fetch my wife from Earls Court, where she's been having lunch.'
Mr. Clayton went away and he was left alone for some time, and then the door opened and the dear figure and face which had never been absent from his memory stood before him visible and actual.
When Mr. Clayton returned, he observed that a rose which had been in Minnie's hair was now in Mr. Heron's coat. He was playing vigorously on the piano, Minnie listening smilingly.
'That's a mighty fine piece,' he said. 'What is it?'
'Marsch der Davidsbündler gegen die Philister,' replied the pianist.18The final section of Schumann's "Carnaval" (Op. 9). The title is German, not Dutch.
'Ah, I don't know Dutch; Minnie understands it, I suppose.'
'I'll run upstairs and see mother,' said Minnie. "Mr. Heron can go away or stop and talk to you, just as he likes.'
Original Document

Download PDF of original Text (validated PDF/A conformant)
Topics
How To Cite (MLA Format)
Robert Shindler. "The Hon. Percy Heron." Longman's Magazine, vol. 14, no. 79, 1889, pp. 45-65. Edited by Anne Ashton. Victorian Short Fiction Project, 10 December 2023, https://vsfp.byu.edu/index.php/title/the-hon-percy-heron/.
Editors
Anne Ashton
Cynthia Beck
Jackson Haight
Cosenza Hendrickson
Posted
21 March 2020
Last modified
7 December 2023
Notes

↑

1
Soirées dansantes is French for "dance parties."

↑

2
Jan Ladislav Dussek was a Czech composer and pianist associated with the Romantic movement.

↑

3
Arthur Sullivan was part the duo Gilbert and Sullivan, famous for their comic operas such as "The Pirates of Penzance" and "H.M.S. Pinafore."

↑

4
The cow-catcher is the blunt wedge-shaped device mounted to the front of a train to deflect obstacles from the track.

↑

5
"The Hon." or "The Honourable" is an honorific title designating someone the son of a viscount, baron, or earl.

↑

6

Debrett's Peerage and Baronetage

was a 

book, published roughly every five years, that provided readers with information on the titled members of British society.

↑

7
A soirée musicale was a party for listening to musical performances. It is a French term that, translated literally, means "musical parties."

↑

8
The three men referred to here are, respectively, Frédéric Chopin, Franz Schubert, and Anton or Nikolai Rubinstein. All were prominent composers throughout the nineteenth century.

↑

9
Stephen Heller was a Hungarian pianist and composer associated with the Romantic movement.

↑

10
Franz Liszt and Richard Wagner were both enormously popular composers.

↑

11
A French word referring to a short musical piece.

↑

12
Lieber Himmel is a German exclamation that translates roughly to "Dear Heavens!"

↑

13
Sigismond Thalberg wrote a famous composition of variations on "Home Sweet Home."

↑

14
Lines from Robert Schumann's song "Ich bin geliebt" from "Spanishces Liederspiel" (Op. 74). The lines translate to "Whoever loves me I love back, / And I know that I am loved."

↑

15
A French term that literally translates to "head to head." It is used in English to mean a private conversation, especially face to face.

↑

16
2,000 pounds.

↑

17
A quote from Edgar Allan Poe's "The Raven."

↑

18
The final section of Schumann's "Carnaval" (Op. 9). The title is German, not Dutch.
TEI Download