"Provide Things Honest"; or, Those Two Young Hills, Part 3
The Girl's Own Paper, vol. 29 (1880)
Pages 138-142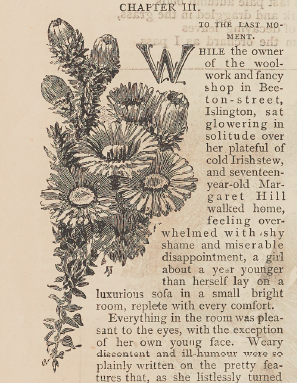 NOTE: This entry is in draft form; it is currently undergoing the VSFP editorial process.
Serial Information
This entry was published as the third of three parts:
CHAPTER V
 ALL BUT THE PINK SILK BOOTS
As Margaret Hill approached No. 3, Montpeilier-terrace, she got in as close under the shadows of the houses as area railings and doorsteps would allow. If Ida Deacon in her soft Indian cahsmeres shrank from the just displeasure of her mother's eyes, timid Maggie Hill, in her simple serge, shrank quite as much from the indignation she expected soon to see in those of her robust, impetuous young sister. Whether the storm were directed against herself or against the shopwoman she considered a matter of secondary importance. She was essentially a peacemaker and a lover of peace, and "fusses" of all kinds jarred on her terribly. The disappointment was bad enough, but Nelly's wrathful outburst would be still worse.
However, all Margaret's manoeuvres to put off the evil moment as long as possible were fruitless, for Nelly's anxiety had made her a watcher at the window long before her sister crossed the road, and flying downstairs the instant she saw her, she stood peeping through an inch of opened door until Maggie mounted the steps, when she flung it wide open with a gay laugh, and asked, with almost breathless eagerness—
"What fortune, Mags, what fortune? And what have you got in the bag now? Something for mamma?"
"Carry that, please, upstairs, and wait till we get into the bedroom, to be answered," said Maggie, hurriedly, putting a parcel into her sister's hand as she spoke, which Nelly now noticed for the first time, and upon which her eyes suddenly fastened with a frightened gaze, as if it were a basilisk. Indeed, if it were no serpent to kill herself, it so far performed that dismal office for her hopes that she turned and mounted to the bedroom as soberly as Maggie herself, and showed little surprise when at last the bag was opened, and Maggie's tears dropped slowly on its contents.
"I'm so sorry, Nelly," whispered Maggie at last, barely breaking a silence that she began to find even more oppressive than the wild burst of lamentations she had dreaded. The fact was, the greatness of the calamity, the utterness of the downfall of her confident hopes, had quite quelled Elinor Hill for once.1The original reads "foronce."
"Maggie, I wish you would pinch me, "she blurted out at length, with something between a sob and a laugh. "Just a downright hard pinch I should like, if you don't mind."
"But I do mind," sighed Maggie, "and I don't see what good it would do either."
"I do," retorted Elinor. "It would be a comfort to know for certain whether or no I am having a horrid dream."
"No need for pinches to tell you that," sighed Margaret again. "Here are all the things back again, you can look at them and see—poor little boots and all." And Margaret drew them forth as she spoke, till the whole dainty array once more strewed the bed, a really pretty collection of bright objects, in spite of poor Elinor's bitter ejaculation—
"Horrid things! I've a good mind to throw them all into the kitchen fire."
"What! Your pink satin lace-up boots into the bargain?" asked Margaret, with a ghost of a smile.
"Umph!" grunted Miss Nelly. "Perhaps I might spare them to send as a chef d'oeuvre to exhibit at South Kensington.2The Victoria and Albert Museum in South Kensington specializes in the industrial arts, including fashion. "But, by-the-bye," looking into the bag again, and then giving it a hearty but quite useless shake, "where are those pink satins? I don't see them anywhere. What have you done with them, Maggie?"
"Done with them!" repeated Margaret, in consternation, hastily turning over the mass of small treasures. "I have done nothing with them, Nelly. O! what can have become of them. I am so sorry, Nell; I would rather have lost all my own things than those pretty little boots of yours."
"I know that, you silly old Mags," said Nelly, putting her arms round her sister's neck, and giving her a great hug; "but you need not look so dismal about the matter, for I expect that dreadful old shopwoman has kept them, and I shall just go off there and make her give them back."
CHAPTER VI
CONSOLATION
"Mrs Deacon had gone upstairs with the intention of dressing for a walk; but her talk with Ida over Miss Broad's letter had banished her purpose from her mind, and she was still in her room more than half-an-hour later, when a low rap, twice repeated at the door, attracted her attention, and she called—
"Is any one there? Come in."
"Yes, mamma, I am here," said a voice as low as the rap, as the door opened and Ida Deacon moved a few steps forward, for the first time in her life aroused to a wholesome feeling of shame at facing even her tender, loving mother. But there were other interests at stake beside her own at the present hour, and her dawning penitence made her anxious to lose no more time in doing what she could for them.
"And oh, mamma," she said at the end of a second tearful conversation, "do please help me to do something for Miss Broad. It is so hard that she should have to suffer for my fault!"
"It would be well for the world if people would care more how often they make the innocent suffer for their wrong doing," answered Mrs. Deacon, gravely. "But to come to the matter more in hand at this moment, I do not see how I can possibly help you to help your friend since you are quite unable to use your hand for some days to come, and you say that you have spent all your money. I might help Miss Broad, but if I help her with my time, and my money, I suppose you would not wish to take the credit of it?"
There was a short pause, and then an earnest "No, mamma. If only you will do something to save poor Miss Broad from suffering through me I will write to her myself, and tell her all about the matter. And I will try, indeed I will, to leave off being slothful."
"And I will try, indeed I will, to hope for your success," said Mrs. Deacon, in a lighter tone, and kissing the soft pink cheek as she spoke. And then the carriage was ordered, and Ida was dismissed to put on her hat to go off with her mother in search of such articles as are populary considered the right sorts of things for fancy fairs. Mrs. Deacon had long had by her the address of a little fancy shop, on which an acquaintance had once asked her to bestow her patronage if opportunity should ever occur, and once or twice, at some inconvenience, she had taken the long drive thither from the West-end. The present seemed such a good occasion to gladden the poor shopwoman's heart by unusually extensive purchases that the coachman was once more desired to turn his horses' heads in that direction, and Ida breathed more freely than she had done since she burst into tears over the first reading of Miss Broad's letter.
CHAPTER VII
MRS. BUDGEN RELENTS
"Poor young thing! Nothing but a poor bit of a helpless young thing!" murmured the owner of the small Islington woodwork and fancy shop.
It was five o'clock in the afternoon. Three hours since the harassed, careworn woman had so contemptuously rejected Margaret Hill's goods, and half frightened the timid young maiden out of her wits besides. At that time Mrs. Budgen had been standing behind her counter the whole long morning with no better result than serving two children with a few pennyworths of scarlet wool, and she was hungry and tired when a hoped-for customer turned in such a disappointing matter, into a would-be seller instead of purchaser.
But now, at five in the afternoon, Mrs. Budgen sat comfortably enjoying a good cup of tea while she kept an eye on the shop, and reflected on a very good day's returns. In this satisfactory change of circumstances the latent benevolence of the poor, hardly-tired shopwoman's heart had time to thaw and come to the surface. She began to feel many a pang of regret at the way she had spoken to her shy, soft-voiced young visitor. Life had been little but a series of trials and troubles to the lonely widow herself. She well knew what it was to long to earn a little money, and to pray for some encouragement to work and hope. Her pale grey eyes grew moist as she sipped her tea and thought of the timid young girl she had driven from her shop so roughly.
"Poor young thing!" she murmured. "Nothing but a poor bit of helpless young thing. And handy, too, and clever with her needle, no doubt."
And as Mrs. Budgen uttered those last words she looked towards a tiny little pair of doll's pink satin lace-up boots standing opposite her on the table, and laying down the piece of buttered toast she had just taken up, she wiped her fingers carefully, picked up the boots, and carrying them out into the shop, placed them in the very centre of the window, in the most conspicuous position she could find. She returned to her sitting-room with a contented smile on her face, and a better appetite than before for her tea and toast.
"Whatever did we English folks do before we got our cup of tea, I wonder?" she soliloquized as she finally put back her cup, and returned to her place behind her counter just as a carriage drove down the narrow street and stopped before the door.
Before she had time to form a regret that her stock was not more worthy of such customers, Mrs. Deacon entered with Ida, and at once put the shopkeeper at her ease by her friendly greeting.
"And now to business, Mrs. Budgen," said Mrs. Deacon cheerfully, and seating herself as she spoke, with an air that made the careworn heart thrill with delight at the prospect of a good order. It fell again somewhat, and the recent regrets on the score of Margaret Hill revived in full force when the nature of the business was declared.
"And I might have had such a splendid lot of thing—just what you want—for you," she ejaculated aloud as a finish to her silent thoughts.
"Might you?" said Ida, eagerly. "How was that? But oh! I daresay you have plenty now. I see one thing, at any rate, that will do delightfully—the delicious little pair of boots in the window. Are they very expensive?"
"I really cannot properly say, miss," was the reply as the boots were brought forward. "They belong to a young lady who brought a heap of things here some hours ago to sell, but—but—you see, miss—you see, ma'am, I can't afford to buy; I have to make what I sell, so she went away, and she was shy and frightened like, not used to selling, evidently; and in her hurry to pack up her things again she must have dropped these, for I found them soon after she'd left."
"And then you put them in the window?" said Ida.
"Yes, miss, partly that the young lady might see them if she should come back to look for them, and partly in the hope that someone else might take a fancy to buy them, and I might some time be able to give the poor young thing the money, and show her that I had at least done a little bit of what she wished me."
"Oh! I see," murmured Ida, bending low over the toys as she turned them about in examination, and thought of the patience an unknown young girl had bestowed upon their manufacture. Even if she had fulfilled her promises for the fancy fair, she knew well that none of her performances would have borne comparison with this neat, painstaking work.
"Mamma, please buy these," she said at last; but before Mrs. Deacon could reply, a fourth person, who had made a sudden rush into the shop whilst she was speaking, dashed forward, and exclaimed brusquely—
"I am very sorry, but she can't; they are mine."
The new-comer stretched out a hasty hand to take possession of the property, as she thus laid claim to it, but Mrs. Budgen was as quick as herself, and snatching up the boots, retorted indignantly—
"Why now, miss, how dare you say such a thing! They were brought here by the young lady herself just before two o'clock to-day. Quite a different sort of a young lady to you, and she dropped them."
"Because you frightened her," was the angry retort. "And they are mine, for I made them."
"Did you?" said Mrs. Deacon, looking at her with a merry smile. "Then, my dear child, you must have been in a more patient mood than you are just now."
The hot cheeks blushed a still deeper red, and the bright eyes sank before the peacemaker's gaze; but the rosy lips went into something of a pout as they muttered—
"It is enough to put anybody in a temper; even Maggie herself would be cross, I should think, to see a person selling the things that she would not buy."
Mrs. Budgen flung back her head and was about to make another angry speech, when her customer hurriedly put up her hand to check her, at the same time saying to Nelly Hill—
"Temper is making you as unjust as it is wont to make most people, my child. Mrs. Bedgen had just been telling us when you ran in of her wish to sell these for a young lady who brought them here for the purpose this morning, and who dropped them as she went away. But now, as you have been bestowing suspicions on Mrs. Budgen, you must not mind if I give you a little taste of the same unpleasantness, and say, if you can prove your ownership of these boots, I shall be very pleased to buy them of you if you will allow me."
"Not really!" exclaimed Elinor, giving herself little time to care for the unpleasantness in seizing upon the unexpected hope.
Ida looked as eager as herself, as she said confidently—
"Of course they are yours; and you can sell them to us."
"Oh, of course," answered Nelly, almost breathlessly. "If only you will truly buy them, and you won't mind, will you? One of the tiny lace holes is sewn round with scarlet sink instead of pink. I couldn't help it; I hadn't any more pink, and no money, you know, either."
Naturally, Ida Deacon did not know that latter fact before Elinor Hill told it to her, but she did not say so; instead, she bent forward over the counter, and looked, with her mother and the shopkeeper, at the little proof that Elinor had so unconsciously given of her right to claim the boots. There, surely enough, was the minute hole, with its scarlet edge, and there, surely enough, was a smile instead of a frown on Mrs. Budgen's sharp-featured face when she saw tears spring into Nelly Hill's eyes, as Mrs. Deacon said gently—
"Have you any more such pretty things as these you could let us have, my dear child? We wish to buy a good many."
Poor Mrs. Budgen had a warm and tender corner in her heart somewhere, although hard toil and hourly care for daily bread lay so wearily on the top of it that it could not always make its existence known. But Nelly had no thought to spare just then on the shopkeeper, or, indeed, on even affairs of greater personal importance. All her mind was occupied with this wonderful new prospect of attaining the object she and Margaret so desired, just when they had been overwhelmed with despondency.
"Could we have the things soon?" asked Ida, looking at her young companion's face with keen sympathy. "We should be glad of them very soon, if we could have them."
"You can have them now directly if you will come for them," was the impulsive answer; and taking her at her word, Mrs. Deacon only waited to have some antimacassars and braided pinafores she had bought made into a parcel, when she entered her carriage with the two girls, and ordered her coachman to drive to the address readily given by the young bootmaker—No. 3, Montpelier-terrace.
"May I ask your name, my dear child?" said Mrs. Deacon, after a short pause, as they drove along.
Elinor turned her eyes from the window for a moment.
"Elinor Hill, and my sister's name is Margaret. She is older than I am—three years older—and ever so much nicer and prettier and better and everything than I am, you know. But there, you'll see her in a minute now, for we have only got to turn the corner, and then five seconds and we shall be at home."
And at this thought Miss Nelly acted more like an excited child than ever, moving forward on her seat and stretching her head, and half her body too, out of the carriage window to catch the first glimpse of the well-known door. She maintained this attitude only for a moment; the next instant she startled not only Mrs. Deacon and Ida, but the coachman and his horses too, by a frantic exclamation—
"Stop—stop!—There's mamma herself," she added, as she hurriedly drew back her head; and before the coachman could obey her imperative order she had opened the door and sprung to the ground.
"I will take the things at half-past eight o'clock to-morrow morning to that shop," she muttered hurriedly. "Oh, do please buy them all the same, but do go away now, pray do, good-bye! And then she sprang away behind the carriage back down the street they had just crossed, away from No. 3, and out of the Deacons' sight. They drove home.
CHAPTER VIII
"WHAT WOULD YOUR FATHER HAVE FELT?"
"I shall just go off there and make her give them back," said Elinor Hill, when she missed her triumph of ingenious needlework—the pick satin boots, and notwithstanding all Margaret's alarmed entreaties that she would spare herself such a terrible undertaking, she held to her resolution. But with all her impatience she was obliged to submit to some delay in its execution. The good-natured servant-girl declared in the first place that the young ladies must not go without dinner any longer, or she really would tell their mamma, and then, when dinner was rapidly despatched, their mamma herself woke up and asked Miss Nelly to make her a cup of tea and a piece of toast, orders which were cheerfully enough attended to. The obedience was not quite so ready when the young maiden was further desired to spend an hour in preparing some French exercises for Mrs. Hill to look over and correct in the evening in lieu of the lesson the headache had put aside in the morning. But at length all was done, and, in spite of Maggie's almost tearful warnings against encountering the terrible shopwoman who had so alarmed herself, Elinor set out to reclaim her property.
"Mamma is fast asleep again, Mags," she said contentedly, as she stole on tiptoe out of her mother's room, "and she is not at all likely to ask for me again yet awhile, as I have been with her so much all the afternoon. Good-bye; I'll be back soon."
"I do hope you will," sighed Margaret. "I shall be in such a state about you all the while you are away."
And then she softly closed the street-door after her sister, and ran up to their room to put by the nick-nacks which still lay strewed over the bed. For some time after she had shut herself in she stood absorbed in their contemplation, and in the thoughts belonging to them. She was so deeply preoccupied that it was not until someone was actually standing beside her, and gazing with her at the number of objects on the bed, that she was aware that her door had been opened or her name pronounced.
"Oh, mamma!" she almost screamed; "oh, mamma, dear, you have frightened me."
Mrs. Hill passed her arm around her daughter and kissed her.
"My poor foolish little daughter," she said, smiling slightly. "I am very sorry, but if folks will indulge in brown studies so deep that they can hear neither raps nor voices, I am afraid they must be frightened sometimes. But where is Nelly, dear, and what is the meaning of all this?"
"Nelly is out, mamma," was the low answer.
"Out! and without you!" repeated Mrs. Hill, in a still more puzzled tone. "What has she gone out for, dear, alone? I much prefer you to go together."
"Yes, mamma," assented Maggie, ignoring the question, and much wishing Nelly were there now with her bravery and ready wits to bear the brunt of the present affair. But wishing was no good. Nelly was not there, nor likely to be for another half-hour, and meantime Mrs. Hill asked again—
"And what is the meaning of all this? Whatever can you have made all these thing for, and without my knowledge? Tell me, Maggie."
But Maggie said nothing. She gazed with those great, soft, timid, brown eyes of hers at her mother, at the things, at the floor, at the door, but she said nothing. She looked so disturbed, so anxious and miserable, that her mother's wondering anxiety grew still greater.
"Margaret," she said at last, more sternly than she had ever spoken to her gentle girl before, "listen to me, my dear. I ask you why you have made all these things without my knowledge, and I must have an answer; tell me."
Maggie opened her lips to obey, but at first no sound came through them. With a second effort she breathed, rather than spoke, the three words, "To sell, mamma."
The silence that followed this confession was so long that Margaret herself broke it in desperation.
"Don't be angry, mamma," she burst forth with sudden pleading. "Oh! Please don't be angry with us. You give us everything; and, as Nelly says, you have not a thing now, like a lady's to wear yourself, and we did so wish to get you something, if we could but have managed to sell."
Margaret's speech came to an abrupt termination with the last word, for her mother suddenly turned sharply away, and, dropping on to the nearest chair, she broke into a little flood of tears.
"What—what—what did you say?" she moaned, with no wish for an answer, but in pitiful remonstrance against the word she had so hurriedly broken in upon. "Oh!" she added, after a moment's pause, "what would your poor father have felt if he had lived to know that his children earned money by needlework?"
Margaret knelt down at her mother's feet and clasped her hands in hers.
"Only tried, mother darling," she whispered, timidly. "They won't buy it. But oh, mother!"—louder and more bravely—"surely papa would not have been frightened of a sound? You always say that he was so wise—so good. If we had sorely wanted money, would it really have hurt him to know that we earned it in any right and honest way? Our hands were given us to use. I cannot be less a young lady because I have tried to make them useful to you by manufacturing things with needle and cotton, any more than if I had painted a picture and sold that. The world's opinion cannot really make these sorts of thing right or wrong, ladylike or unladylike, can it, mamma?"
As Margaret asked her question she laid her soft cheek down on her mother's hands, and then turned and kissed them. Mrs. Hill's sobs had stopped and her tears ceased to flow as Margaret had hoped during her little speech, but it was some time before she could bring herself to answer her daughter with anything more than a mute caress. Truly, as her child had said, there could be no just and sensible feeling of disgrace attaching to an honest effort of useful industry, but yet, to the Major's widow at that hour, it seemed as if living on dry bread and water would be far preferable to earning anything more comfortable by such a despised employment as needlework. For some minutes neither of them spoke. At last Mrs. Hill asked anxiously—
"But where is Nelly all this while? Is she gone out to—to—try to—"
The poor mother could not finish the query she found so painful, and Margaret hastily added—
"No, mamma. Oh, no! Nelly has not gone out to try to sell any of our things. I did that this morning, and the woman was rather rough in refusing, and frightened me so that I dropped something in the shop, which Nelly has gone to ask for."
Mrs. Hill sprang up. Here was a matter that she could spend her excitement upon. "My dear child," she exclaimed, "how could you let Nelly go on such an errand alone? You know how impulsive and outspoken she is. Depend upon it she will have got into some trouble with the woman. Put on your hat at once, and let us go to look for her."
And in another two minutes they issued from the house door, just as Nelly, leaning out of the carriage window, caught sight of them, and tried to escape their notice. But she was too late. The mother's clear eyes had seen her spring out of the carriage, and when the girl at length ventured to re-enter the terrace, the first sight she caught was that of her mother and sister awaiting her on the doorstep.
CHAPTER IX
BRAVE HEARTS AND INDUSTRY
"But, mamma, I have promised them that they shall have the things," expostulated Elinor Hill, with trembling anxiety, when the three had spent nearly an hour in a very long conversation together, and the girls had given a full explanation of the rise and progress of their important undertaking.
"And, after all, the shopwoman would not buy your manufactures, so there is an end of it," said Mrs. Hill, with a sigh of relief.
Elinor sprang forward. "Oh! but mamma, that pleasant-looking lady and her daughter will; and see," opening her hand, "they have paid me two shillings already for those pink boots."
Mrs. Hill turned away with a slight shudder, as though she thought the coin was a something that must certainly burn a hole in triumphant Nelly's palm.
"Never mind what they would be willing to do, dear," she replied; "they will easily provide themselves elsewhere."
Then followed that expostulation, "Oh, mamma, I have promised! And even if you would not accept the money we have had such pleasure in trying to earn for you, we do want so many things, mamma, that the payment would get us. Maggie could, perhaps, have some of the drawing lessons she longs for so much."
Miss Nelly had hit the right chord at last. That allusion to Maggie's neglected talents awoke another strain of thought in the loving mother's mind. If needlework, or any other good effort, were to help her children's interests, she was too true and tender to stand in their light.
"You shall take the things to-morrow, my darling," she said, in low, unsteady tones, "and I will go with you. Come downstairs now to tea. You will both be glad of it, I should think, for Susan tells me you scarcely touched your dinner."
"We were thinking too much," answered Elinor, sedately, and she spent nearly a couple of hours before she went to bed in readjusting such of the handiworks as had suffered slightly in their fresh appearance from Maggie's trembling packing earlier in the day. None of the small family slept very well that night. All were up early, and, fortified with cups of tea out of Susan's kitchen teapot, and crusts of bread all round, Mrs. Hill and her daughters started out, once more laden with the carpetbag and the doll's bedstead, for the Berlin-woolshop.
Another mother and daughter set out from a very different part of London about the same hour, bound for the same destination. It may be confessed that it was as novel a sensation to Mrs. Deacon, as it was to indolent Ida, to find herself out in the streets of London at eight o'clock in the morning, and she was not at all sorry to avail herself very quickly of a passing hansom. Of course there was no necessity that they should go themselves at such an early hour to receive the things the eager young stranger had promised to bring at that time, but Ida told her mother she should like to do so as a proof of her earnest desire to amend her lazy ways, and her mother had a new reason of her own for wishing again to see the industrious young lassie, whose position in life was evidently so superior to that of most people who use their needle as a resource for making money.
The hansom took the one party to Mrs. Budgen's as speedily as the feet of the other accomplished the shorter distance, and a painful flush overspread Mrs. Hill's gentle face as she saw the other lady step out of the hansom beside her and at once advance to shake Elinor cordially by the hand.
"You see," said Mrs. Deacon, with a cheerful laugh, "we are as punctual, my dear, as yourself to your very early appointment. May I ask if you are generally in the habit of fixing them quite so betimes?"
"Oh, no," was the frank answer, with a bright glance of Miss Nelly's honest eyes. "I only did it this time because we did not wish mamma to know anything about our work till we had got something by it; but you see it was no good, for she has found out all and come with me."
"Yes," said Mrs. Hill, herself coming forward now, and speaking in tones almost as diffident as her elder daughter's. "My children have never done such a thing as this before—and—"
"And," said the other lady, gently, but very clearly and warmly, taking up the sentence, "you are naturally very proud of having two such brave, spirited, noble-hearted, industrious children—worthy children of a worthy father. I wish my child here may take example by them."
"Yes," murmured Mrs. Hill, mechanically, for her eyes were beaming with the clever praise so justly bestowed upon her young daughters, and her ears were filled with those words: "worthy child of a worthy father." Their father was indeed worthy, truly a Christian gentleman, whom all had loved and honoured who came in contact with him. But what did this bright stranger lady know of this?
While Mrs. Hill was pondering this matter in her mind, outspoken Elinor exclaimed, wonderingly—
"You speak just as if you had known papa—did you, do you think?"
Mrs. Deacon smiled. "I am not quite sure, dear child; but you are so like a gentleman I knew twenty years ago, that, as your name is also the same, I have taken it into my head to believe that that kind, generous-hearted gentleman must have been your father; if so, I owe you all, for his sake, a debt of gratitude I shall find it very hard to repay. But, perhaps—"
She looked round. A four-wheel cab was passing; she hailed it; and then, with a courteously earnest entreaty to the widow to let her take her and her daughter back with her to breakfast, that she might tell her tale more pleasantly, the whole party, bag and parcel included, got in, and was driven off to Cleveland-square.
"Where do you think you met my husband?" was Mrs. Hill's first eager question, when she was at length seated at her unexpected hostess's table, and the two girls leaned forward to hear the answer, as Mrs. Deacon said, without further delay—
"It was in India that I met the gentleman whom I believed to have been your husband. My father was a commissioner out there at that time, and my brother was a young subaltern under a Captain Hill, who, with infinite trouble and generosity, rescued him from a terrible scrape into which he fell, rather from heedlessness than any more desperate fault. Shortly after my brother changed into another regiment, and the last I heard of good, true-hearted Captain Hill was that he married a Miss Seymour at the same time that I married Mr. Deacon."
The tears were falling from beneath the widow's lowered eyelids, as she murmured, in a voice divided between sorrow and gladness—
"My name was Seymour. I have heard from my husband of your brother, Vivian Campbell. He liked him so much."
"Because he did so much for him, I suppose," said Mrs. Deacon, smiling. "That is the way with all generous natures. But his bright, brave spirit of independence is evidently shared by his children. How thankful you must feel for that!"
Mrs. Hill's cheeks flushed. She had not hitherto considered the special instance they had given of their independent spirit a cause for thankfulness; but before she had been many hours in Mrs. Deacon's society she learnt to count this also amongst her blessings.
Elinor was made quite happy, being allowed to sell the manufactures of her own and her sister's clever fingers. And Miss Broad was made abundantly happy with the gift of the dainty, attractive articles for her stall.
But the good resulting from Margaret and Elinor Hill's honest, industrious effort to help themselves did not stop here. A connection was formed for them with Mrs. Budgen and some friends also of Miss Broad's; and, to the mutual satisfaction of themselves and their mother, the good music and painting lessons they had sighed for in vain were, within no long time, paid for by their own persevering work, laughing help being occasionally given and accepted by their fast friend, the greatly improved Ida Deacon.
"I expect you make more money by your music nowadays than by your pincushions," she said, laughingly, to Elinor one evening.
Nelly laughed back—
"Aye, and so does Maggie by her paintings."
The End.
Original Document

Download PDF of original Text (validated PDF/A conformant)
Topics
How To Cite
An MLA-format citation will be added after this entry has completed the VSFP editorial process.
Editors
Andrea Pace
Cosenza Hendrickson
Alexandra Malouf
Posted
26 September 2020
Last modified
26 May 2023
TEI Download
A version of this entry marked-up in TEI will be available for download after this entry has completed the VSFP editorial process.