The Diary of a Disappointed Young Man, Part 3
by Anonymous
The Young Englishwoman, vol. 1, November issue (1867)
Pages 561-567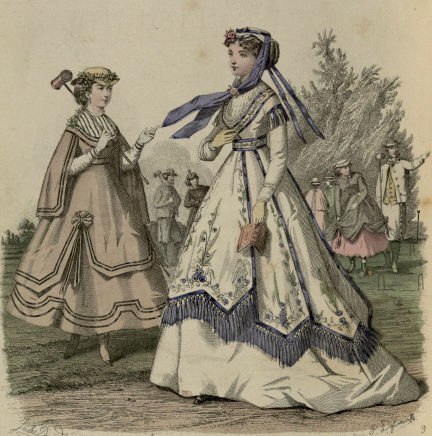 NOTE: This entry is in draft form; it is currently undergoing the VSFP editorial process.
Serial Information
This entry was published as the third of three parts:
Oct. 1st, 18—.—Long letter from the Mater—and, by Jove! the most remarkable coincidence! She fills three pages with a rather discursive but very interesting account of some "charming girls" she has met at Sir John Bletchworth's, come over from York to assist at the festivities consequent on young Bletchworth's coming of age. "Sweet, unsophisticated, fresh girls," my most simple-minded, excellent mother writes. "Most refreshing to meet with, after the worldly-minded, heartless specimens one comes upon in the world now-a-days." And so on for three pages, as I said before, and with the most transparent design. My most "unsophisticated" mother! Evidently, she has forgotten that wise saying about the futility of setting the snare in the sight of the bird. But the coincidence. These charming girls are Bessie and Eve Travers! It is curious how things come about. I am glad the dear old lady like them; they are nice girls, although I have just written to decline the pressing invitation with which her epistle winds up to run down to L—shire in time for the ball on the 3rd, and although I have, at the same time, expressed myself pretty plainly to the effect that charming girls have henceforth no charms for me, my heart having got over all and every weakness, and taken to itself, for ever and henceforth, that dry and musty skeleton—the law. Poor old mother! it will be something of a disappointment to her. She has set her heart on seeing me settled, as she calls it, and the old place and old name in a fair way of being handed down to posterity, &c. Well, there's no help for it. "It might have been once," as Browning says; but it won't be now.1From Robert Browning's "Youth and Art," though the poem reads, "It once might have been." When a fellow's heart gets burnt to cinders and powdered to ashes, there's not much left to raise a flame from. I'm fire-proof henceforth, like a patent safe. Poor dear mother! I am sorry for her. Hillo! what's this postscript, crowded down in the corner? Amy Marchmount's marriage to the eldest son of a peer. I'm heartily glad of it—shall add a postscript to my letter, and say so.
Oct. 2nd.—No sign of life over the way; the lawn still deserted. Took a stroll on the beach this morning; thought I saw Fairy's golden locks glittering in the sunshine: vanished, fairy-like, whilst I was turning a corner to get up to them.
I have altered my mind. I shall run down to L—shire for the ball. I start by the mail-train to-night. I am tired of everything, and this may create a new sensation, and it will please the old people. I keep on my rooms here, and come back again.
Oct. 4th.—The ball was not so bad, after all, for a county affair. Nobody went to sleep, that I saw; and my Lord Tom Noddy danced with Miss Smith without turning his back on her more than once or twice, or otherwise showing his sense of the condescension. And if pretty Miss Smith did draw on the back of her programme a splendid caricature of his lordship, and of his lordship's fat, cantankerous mamma in the act of reproving him for the act (the dancing, not the back-turning), why, it was no more than might have been expected of a smart, clever little girl, with more sense in her little finger than in his lordship's whole body, and her ladyship's, too, to boot. Miss Smith showed me the sketch, under the seal of secrecy, and I brought it away in my pocket. It sent young Bletchworth and half-a-dozen more into fits after supper. Miss Smith is the Bletchworths' governess; her father led a forlorn hope in the Crimea, lost an arm and a leg, got the Victoria Cross, and nothing else, and died last year—of his services! Miss Smith is a great deal prouder of his memory than my Lord Tom Noddy has any reason to be of that of the late Viscount, who gambled his (unentailed) estates away on the turf, and turned the Viscountess sour and crabbed by his other misdeeds, and drank himself into delirium tremens at last.
But the pleasantest part of the evening was the re-introduction to Bessie and Eve. I get on well with those two girls; why the deuce should Die—the others, I mean—fly at the sight of me as if I were a wild beast? They blushed and dimpled when they saw me—pretty creatures they are, to be sure, as fresh as daises, and as sweet as new-mown hay—and received me like the valued family friend I flatter myself I deserve to be considered. "Had I been at St. Sebastian lately?" "Just come from there." "Dear me! only fancy! And papa and mamma, and all their brothers and sisters, lived there; it was so strange to meet any one, so far off, actually just come from the very same place!"
"So it was," I agreed.
Then they "wondered" if I had ever, by chance, seen their sisters? No: it was very likely though, for they were very little about the place, less than ever, just now—looking shyly at one another—"since—since strangers—visitors—had even found their way to the lawn which they had been accustomed to have all to themselves."
"These impertinent Cockney idlers," I denounced, with a look of stern reprobation, "intrude themselves everywhere. But what were their sisters like? I might have seen them in church, perhaps."
"They were like any other young ladies, only quieter, and Die a great deal sweeter and prettier," Eve broke in. "They went to St. Michael's Church, and Fairy had long, golden hair. Oh, such lovely hair; perhaps I might have remarked that?"
"No; I thought no (reflectively). So many little girls, now-a-days, have golden hair. But I should be returning to St. Sebastian in a day or two, and I would look out especially for Fairy. Perhaps, in fact (thrown in carelessly as an after-thought), they might have some message or parcel, of which I should be pleased to be the bearer."
"Oh, they would be so glad, if it would not be troubling me too much; and mamma, and they all, would be so delighted to hear of them from some one who had seen them so lately."
So that is managed, and, I flatter myself, very well managed. Only, they are such guileless doves that it is almost a shame to take advantage of their simplicity, as it is of the simplicity of my dear old mother, who has been sitting opposite to me all the morning, feigning to be very much occupied with some sort of charity garment, but in reality having what she would call "a good talk" with me—a gentle, placid, monotonous stream of talk—all "telling me how fair young"—Bessie—"is." Dear mother! Playing her cards so well, as she thought, but showing her hand all the time.
"I don't know when I have seen such a really nice girl, Frank—such an unaffected good girl. A charming wife she will make for somebody, and I fancy young Bletchworth thinks so, too" (glancing furtively up at me over the hem of the charity garment); "he danced with her so often last night. It would be a good match on both sides, for old Sir Walter makes no secret of his having adopted his nieces, and intending to provide liberally for them; and the old gentleman is immensely rich, and one of the oldest families in Yorkshire. I have an idea that Lady Bletchworth hoped something might come of it when she asked the girls here on a visit. But girls like that are soon snapped up. Harry Bletchworth must take care."
"Yes," I assented, finding, from the paused made here, that something was expected of me. "I think it would be a capital match, and, although I have dropped out of the matrimonial race myself, I wish Harry good luck with all my heart." The flannel petticoat trembled in my mother's hands.
"Pray don't hint at the subject to Harry," she cried, breaking out of her placidity for a moment. "It is only conjecture on my part, from beginning to end, and it only relates to Harry's side of the question, after all. I did not observe the least sign of any preference on the young lady's part; on the contrary, I thought, do you know, Frank, dear, that she rather preferred talking to—a-hem!—to you? What an odd coincidence it is that you should have been staying at the very place these girls came from! I wonder you never remarked them at St. Sebastian; they are such peculiarly sweet-looking girls. I fancy I should never have passed them without noticing them. In fact, I do not know when I have met with any one who pleased me so entirely as Miss Bessie does. She is quite clever, too. Lady Travers tells me she sketches beautifully. Do you remember how fond you used to be of sketching from nature? I wonder you do not keep it up; but I suppose you have no opportunities for that kind of thing in that horrid, smoky London. Oh, Frank! how glad I shall be when you get through all that tiresome law study, and settle down."
"My dear mother, I never shall settle down. I shall be a sort of a vagabond all my life."
The dear old lady looked wistfully at me. "Oh, Frank, I hope not. Surely you would never be so foolish as to let a heartless, good-for-nothing (getting very red and excited) jilt, ruin all your life, when there are such (beginning to cry) good—sweet—cha-arming——"
"Oh, bother!" I interrupted, irreverently, and strode out of the open French window.
"Frank! Frank!" cried my mother, distractedly, "come back. Where are you going?"
"For a gallop on Heathmore Common."
"You will be back to luncheon?"
"Perhaps—I am not sure. Don't wait for me."
"But Frank," coming out on the terrace, "you must indeed. I have asked the Bletchworths, and Lady Travers, and all her nieces to lunch with us, and go over the grounds afterwards. And Miss Travers particularly wishes to sketch the church-tower from the top of the hill; and oh, Frank! (seeing my discontented shrug of the shoulders) you must really do the honours, for you know your father is on that tiresome committee, and I know nothing about the wine; and Lady Bletchworth can't walk since she sprained her ancle: so I shall have to stay indoors with her, and there will be no one to walk with the rest, you know."
Not so bad, mother mine, for such a very simple-minded, ingenuous old lady. I shouldn't wonder if you turned out as accomplished a match-maker, in time, as any Belgravian dowager of the lot—that is, unless I save your character by taking the matter into my own hands.2Belgravia is a residential district in London where fashionable people lived.
So I walk with the ladies, and show Miss Bessie the best point of view for her sketch, and advise her on the other details thereof; and afterwards I very graciously accept Lady Bletchworth's pressing invitation to return with them and dine, and I turn over the leaves of Bessie's music whilst she sings, and then (I am not a coxcomb, I protest) I pack my portmanteau when everybody else is in bed, and am all ready for a start by the first train in the morning.3A coxcomb is a fool. So ends my poor mother's little play. Poor, dear mother! I could wish, for her sake, that my heart were not such a dried-up piece of anatomy. And it is hard lines, too, before a fellow is five-and-twenty.
Oct. 9th. —Back again at St. Sebastian. Presented the letter of introduction with which Bessie had armed me, and remain where I was. Deuced ungracious of the old experimenter, too! The girls are certain to have mentioned the little services I rendered them on their journey. What on earth does he mean by taking no notice of me? Ought I to call again? He may be—probably is—one of those cloudy individuals who put a letter aside, and forget all about it. It would be only decently attentive, on my part, now I think of it, to call again. I have seen Bessie and Eve so lately, I have promised to make my report of them to the mother and sisters, faithfully promised, and, of course, I am bound to do it. I think I'll wait till to-morrow though, and give the old fellow another chance of being civil.
Oct. 10th.—Found Fairy down on the beach, with the hobbledehoy and a knickerbocker, picking periwinkles and sea-weed off the rocks. Watched my opportunity, and joined them. Won Fairy's good opinion by bringing a long riband of sea-weed safely to land with my cane, after it had floated out of her reach. Also, by discovering a magnificent sea-anemone, and bringing it home for her in a pail. Parted with expressions of mutual regret. A step in the right direction, at all events.
Oct. 11th. —The papa makes no sign, but Fairy and I are fast friends. Spent three hours on the rocks again this morning, hobbledehoy in attendance, and found out where the girls spend their mornings—i.e., down on the beach, in a sort of tiny land-cove, very snug, very sheltered, and quite shut out from view. Dared not investigate, but took Fairy's word for the fact. Took the opportunity of ascertaining various other little family particulars from Fairy, but very nearly spoilt all by blurting out Die's name, in the midst of an interesting account of "sisters'" habits, accomplishments, &c. "And Die sings too, then?"
"How did you know her name was Die?" says Fairy, turning sharply upon me.
"You told me so, just now," I reply, with unblushing effrontery.
"No, I didn't," Fairy asseverates. "I'm quite sure I didn't; because, you see, they always tell me I'm not to tell their names to anybody. Once last year, an officer of the new regiment asked me Die's name, and I told him, and she said I was never to do it again. And I never have. So how could you know?"
"Perhaps I guessed it," I answered, carelessly.
"But it's not an easy name to guess," persisted Fairy, uncomfortably. "If it had been Mary or Anna, I should not have been surprised."
"Hullo!" I shouted, "What a big fellow—glued on to the rock, too, as if he belonged to it." And down on her knees went Fairy to assist in the appropriation of the polypus, and forgot her wonder for the time.
Oct. 12th.—Fairy not out to-day. Have they taken alarm at our acquaintance? Likely enough. There seems a blight upon all my efforts to approach this family. I believe that I shall find myself back in town on the 1st of November—at least, I can stay till then—without having advanced further than Fairy. Oh, and Bessie, and Eve, of course; but they are not here. Not that I mean to give it up yet—not if I know it. But, hang it all! what can a fellow do that I have not done?
Oct. 13th.—Supped on lobster-salad, and spent the "witching hours of night" in the transaction of a variety of moving incidents, all naturally enough, after the train of thought which preceded my falling asleep, tending to make the acquaintance of the Travers family through such highly sensational effects as Fairy pitching headlong down the cliffs, and being recovered by myself before she reached the bottom, with the melo-dramatic conclusion of placing the rescued one in Die's outstretched arms, and being rewarded with her sobbing thanks. Also, with the same conclusion, exciting scene of old visionary father setting himself and the house on fire in the course of demonstrating that perpetual motion is to be found in self-generating steam; grand tableau of flames, smoke, shrieks, and frightened provincial firemen; old father insensible by the side of crucible; dragged out, amidst a complication of difficulties which would have daunted even dauntless Braidwood: total result as already stated.4James Braidwood was a celebrated firefighter during the Victorian Era.
And can my brain be softening? I have spent the best part of the morning lounging on the beach (Fairy still invisible), and elaborating the same little sketches of heroism.
Brought down with a run by the perusal of the very courteous, but extremely matter-of-fact note, awaiting me at home, in which "Mrs. Travers scarcely knows how to apologise for what must appear both discourteous and ungrateful; but Mr. Travers, in the great pre-occupation of his engrossing scientific pursuits, unfortunately laid aside the letter of introduction which Mr. Nethercliff had presented at his house, and so prevented the pleasure of sooner making an acquaintance which is peculiarly acceptable to him and his family. Mrs. Travers hopes that Mr. Nethercliff will kindly accept this explanation, and join her family party at tea this evening at six o'clock."
Humph! falls rather flat after the heroics in which I have been indulging (my brain must be weakened, if not absolutely softened). Tea and bread-and-butter, and marmalade, and perhaps even shrimps. (No; I don't believe shrimps are their style, although people will do anything at the sea-side, and at a six o'clock tea.) Disgustingly common-place, though, without the shrimps, and horridly vulgar with them. See what it is to live in the high-pressure latitudes of sensation. Last week, I should have hailed the tea and marmalade with appreciative gratitude, and now I quarrel with my bread-and-butter.
11 p.m.—Family party, charming; good tone throughout. (N.B. No shrimps.)5N.B. stands for "note well." Mother faded, but pretty and lady-like. Fairy in a perfect twitter of excitement and surprise, constituting herself a complete catechism. "Why didn't you say you knew Bessie and Eve?" "Didn't you know we were their sisters?" "Did they dance much at the ball?" "Did you like them?" &c. and, "Oh! that's how you knew Die's name, wasn't it?"—winding up with, "I'm so glad mamma and everybody knows you, because, now, they won't mind your finding the sea-weeds and things for me." The father came in with the tea-things, and disappeared with the bagatelle-board; glad, no doubt, to escape to his laboratory, or whatever he calls it. He looked and talked like a man of refinement, and evidently tried hard to rouse himself from the pre-occupation of his favourite pursuits, and to do his proper part in my entertainment.
Oct. 25th.—Haven't written a line for a fortnight, absolutely.6The original said "Sept. 25th." Don't know what else I have been doing either. Let me see, for this week, at all events; the last is gone beyond recall.
Monday.—Morning, on the beach with Fairy, and—and the others. Afternoon, croquet on the lawn. (I have actually come to croquet like a lamb!) Evening, tea at the Travers', and bagatelle.
Tuesday.—Ditto, ditto, ditto.
Wednesday.—Excursion to ruins in three basket-carriages, and family picnic—very pleasant. Drive home by moonlight.
Thursday.—Beach and croquet. After tea, accompanied the Travers' party down to beach again, to see the mackerel-boats unload by moonlight.
Friday.—Programme much the same as usual, only bagatelle instead of beach in the evening.
Saturday.—Ditto, ditto.
Rather jolly: this being received completely en famille by such pleasant and agreeable people makes all the difference to a poor devil of a bachelor all alone at a watering-place. I have slipped into the place of l'ami de la maison in the most natural way in the world.7En famille in this context refers to him feeling more at home with the Travers. L'ami de la maison means a friend of the family. How has it come about? Fairy gave me what may be a sort of clue, the other night, as I helped her up the steps in the side of the cliff on our way home.
"You and Die are just alike," she said; "isn't it odd?"
"How?" I asked, not without a certain amount of curiosity.
"Why, you've both had a disappointment," says the enfant terrible, dropping her voice a little; "I heard mamma say so."8Enfant terrible is used to mean someone who acts in an embarrassing or indiscreet manner and is usually an adolescent.
"What—that your sister and I were alike?"
"Oh, no! But I heard mamma tell Mrs. Hutchins, our doctor's wife, that Die had had a disappointment when she was ill; and I heard her read it about you out of Bessie's letter, one day."
So, this must have come through Lady Bletchworth and Lady Travers; and, thanks to the tattling tongues of women, I must go about the world placarded in this wise. And, I suppose, a certain sympathy and fellow-feeling account for my kindly reception by the family here.
Well, a—a—(to speak conventionally)—a—disappointment has its advantages; it gives a man as much license and as many privileges as matrimony. I don't suppose for a moment that I should have been trusted, or should have trusted myself, on such a familiar footing in a family of pretty and attractive girls, if it had not been for this safeguard. It's as good as a dip in the River Styx.9In Greek mythology the River Styx is the river that the dead cross to get to the Underworld. Achilles's mother dipped him in the Styx as a baby to make him invulnerable in battle.
Oct. 31st.—I go back to London to-morrow, and somehow London doesn't do, after the easy, jolly sort of life I have been leading down here. Chambers will feel "flat, stale, and unprofitable," and rusty Mrs. Brown—my only sample of womankind—will be rustier and uglier than ever. Fairy will miss me—it's pleasant to be missed. I wonder if—if—the others will? There certainly was a gloom on—on—most of their faces this morning, when my departure was talked of. Will—will Die miss me? I'll ask her—upon my soul, I will. Why not? The footing we are on justifies the presumption, and our disappointment prevents all danger of misconstruction. Of course, I can ask her.
12:30 p.m.—I met her hurrying home along—having been basely deserted by the hobbledehoy on some shopping excursion—and I joined her. She blushed divinely—how lovely she is when she blushes! I took the opportunity of asking her—she said, "No"—I said—the fact is, I have a very confused impression of what either of us said, or of what happened next; but I know that I managed to make my sweet Die confess that she should miss me a little—and—and something more besides; and I am the luckiest dog in the world. I don't believe she ever cared—much—for that other fellow, confound him! And now Mrs. Brown may look as rusty as she likes, and the old chambers may be as fusty as they like. It will only be for a week, and I can run down from Saturday to Monday, and the thought of my sweet girl will brighten up the week like the one flower I have seen sometimes on a smoky London window-sill. Upon my word, I am merging into the sentimental! And now for the dear old mother; I must scribble her a line for the early post. Won't she be glad! Will she? It isn't Bessie—exactly, and old Sir Walter's money is out of this calculation (so much the better); but I can turn the Mater's own weapons against herself. "Such a good connection! Such an old family—such well-brought up, innocent, sweet girls!"—(Die is the sweetest of all) and,—"Oh, Frank, how glad I shall be when you settle down." I have her there, and she will be all right; and my father too, for the matter of that; and, upon my soul, it is a relief to throw off my rôle of blighted heart, a disappointed young man, and all the rest of the confounded rubbish!
Original Document

Download PDF of original Text (validated PDF/A conformant)
How To Cite
An MLA-format citation will be added after this entry has completed the VSFP editorial process.
Editors
Sarah Barlow
Cosenza Hendrickson
Alexandra Malouf
Posted
16 March 2021
Last modified
8 June 2023
Notes

↑

1
From Robert Browning's "Youth and Art," though the poem reads, "It once might have been."

↑

2
Belgravia is a residential district in London where fashionable people lived.

↑

3
A coxcomb is a fool.

↑

4
James Braidwood was a celebrated firefighter during the Victorian Era.

↑

5
N.B. stands for "note well."

↑

6
The original said "Sept. 25th."

↑

7
En famille in this context refers to him feeling more at home with the Travers. L'ami de la maison means a friend of the family.

↑

8
Enfant terrible is used to mean someone who acts in an embarrassing or indiscreet manner and is usually an adolescent.

↑

9
In Greek mythology the River Styx is the river that the dead cross to get to the Underworld. Achilles's mother dipped him in the Styx as a baby to make him invulnerable in battle.
TEI Download
A version of this entry marked-up in TEI will be available for download after this entry has completed the VSFP editorial process.